Ok, liebe Forum-Freunde!
Im Beyonce Forum spielen wir gerade ein interessantes Foren Spiel namens Elimination Game.
Ziel ist es herauszufinden welchen Film unser Forum am besten findet.
Dazu wählt jeder von uns in den jeweiligen Umfragen die beiden Filme, die sie/er weniger toll findet als die anderen Filme.
Jede Umfrage bleibt eine Woche offen. Nach einer Woche fliegen die beiden Filme mit den meisten Stimmen raus und eine neue Umfrage mit den verbliebenen Filmen wird erstellt. Das geht so lange weiter bis nur noch ein Film übrig ist.
Also ihr habt 2 Stimmen! Müsst aber natürlich nicht beide nutzen.
UPDATE:
Ab sofort hat jeder nur noch 1 Stimme, weil wir die letzten 4 Filme erreicht haben!
Ich habe also mal alle Filme in denen Vin mitgespielt hat aufgezählt. Bis auf die Cameo filme wie Tokyo Drift oder Awakening.
Viel Spaß beim Spielen!

STATISTIK:
Runde 1: (10 Stimmen)
Multi-Facial (3)
Strays (2)
Der Soldat James Ryan (2)
The Iron Giant (2)
Runde 2: (10 Stimmen)
Knockaround Guys (4)
Find Me Guilty (2)
Los Bandoleros (2)
Runde 3: (8 Stimmen)
The Pacifier (3)
Boiler Room (2)
Runde 4 (10 Stimmen)
Babylon A.D. (3)
A Man Apart (2)
xXx - Triple X (2)
Runde 5 (8 Stimmen)
Fast 5 (2)
Runde 6 (9 Stimmen)
Fast & Furious 4 (3)
Pitch Black (3)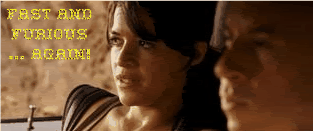 The post was edited 20 times, last by Venezia ().